For this mother-daughter duo, fitness has always been a priority. Colleen has always liked to stay busy, being a firm believer of "if you don't use it, you lose it!" She took this passion for being active and instilled it in her daughter, Kayla, at a young age. Kayla says, "Fitness has changed forms over the years. It was in the shape of sports like softball, basketball and dance growing up. And now it's more organized exercise and class-focused."
While a love for fitness has come easy, both ladies admit that health conditions have played a part in making sure fitness remains a priority in their lives. "After my breast cancer diagnosis, the treatments left me feeling tired and weak," Colleen shares. "My oncologist suggested I start to walk every day, even if it was just for 5 minutes to help build up my stamina, so I did."
"For me, it was 2012," says Kayla, "I was diagnosed with PCOS and insulin resistance."  This diagnosis reminded her of the importance of maintaining a healthy diet and regular exercise routine and led her to finding a way to do so.
Kayla says she became a fitness member at Woman's Center for Wellness first because of the variety of options available. "I really like the number of options you have as a member. It's so easy to change things up! If I'm running late and can't make a class, it's not a big deal, I can still get a good workout in with the equipment on the gym floor, plus it's a great way to change up my routine," she says.
Not long after Kayla joined, Colleen soon followed. "I had never belonged to any kind of gym before, but thought I'd give it a try," she says, "I never thought I'd love it so much!" Both of them enjoy the variety of classes offered each week and are regular participants in the HITT, spin, kettle bell and kickboxing classes. In addition, they enjoy utilizing the equipment on the gym floor upstairs to supplement their exercise routines.
"I love working out with my mom!" Kayla says, "It's a great way for us to spend time together and hold each other accountable." The pair can be found at the fitness center four days a week, typically in the evenings after work hours. "Neither of us are morning people," admits Colleen, "So after work, before heading home for the evening works for us."
Both mom and daughter praise the staff for their courteous nature and helpful attitude. "There is always someone willing to help," says Kayla. "They always have a smile on their face. The staff is really wonderful!" adds Colleen. They also agree that the variety of classes, topnotch equipment and overall facility are all big pluses to being a fitness member. Kayla encourages those who are unsure about becoming a member to check it out. She says that there are options for everyone, regardless of fitness of your fitness level or experience. Colleen agrees, adding that the trainers and instructors are excellent at adjusting classes and workouts to each member as necessary.
They admit to taking advantage of the yearly wellness visit included in a fitness membership. "I like to see where we are with our fitness goals," says Kayla, "Plus, it helps keep us on track with our overall health, too."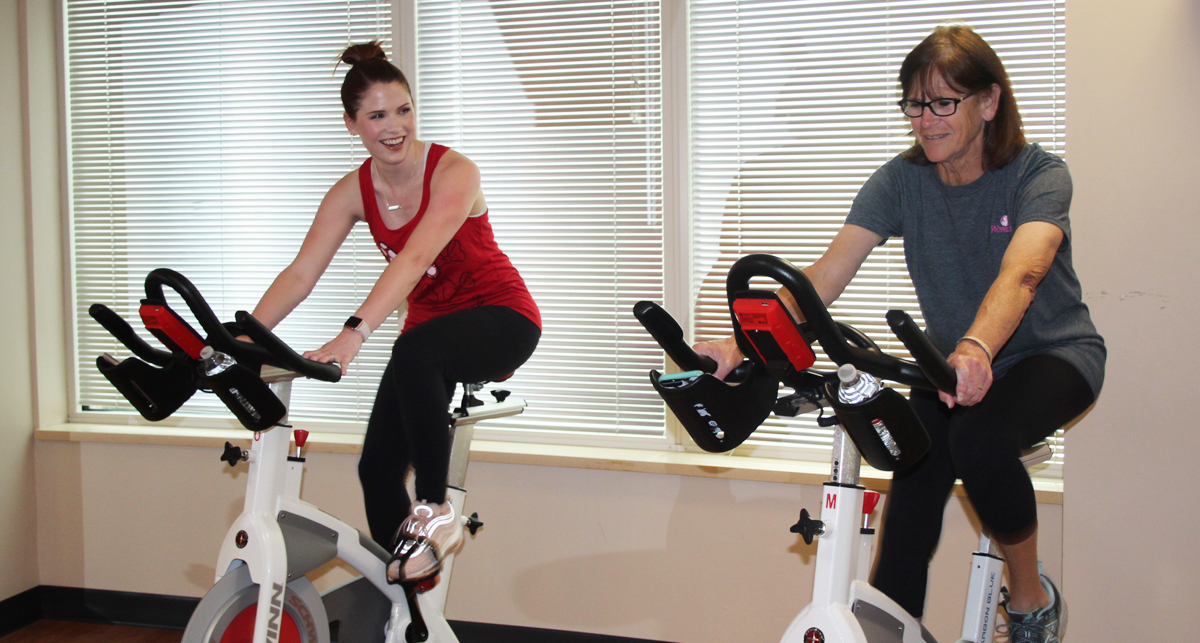 For this pair, making their health a priority is made easier because they get to do it with each other. Colleen says, "I feel so fortunate to a part of Woman's Center for Wellness! But more than anything, I'm fortunate to be able to workout with my daughter and work together to ensure that both of us stay happy and healthy!"