Authors: Dr. Pamela Simmons & Woman's Hospital
Maternal-fetal medicine (MFM) physicians at Woman's Hospital are trained to treat some of the most complicated and rare conditions during pregnancy for both mom and baby. In September 2019, Dr. Pamela Simmons joined the Woman's MFM team, bringing with her a special interest in treating a condition called placenta accreta.
This typically occurs in patients with multiple Cesarean deliveries. The scar tissue from a C-section can cause the placenta to grow too deeply into the uterus. Symptoms can include pain and bleeding during pregnancy, but sometimes there are no symptoms at all. According to the Society of Maternal-Fetal Medicine, only about 3 in 1,000 pregnancies experiences this type of complication.
For one mom from north Louisiana, Dr. Simmons's experience and passion for helping these patients had a major impact on her pregnancy and recent delivery.
Advanced Care for North LA Mom
Brittany, who lives in West Monroe, La., had an uneventful first pregnancy with her now 3-year-old daughter Olivia other than needing a C-section delivery. But early in her second pregnancy, she began experiencing extreme abdominal pain.
After several tests and ultrasounds, she was diagnosed with placenta accreta in November and brought to Woman's Hospital in Baton Rouge for a more specialized level of care. There she met Dr. Simmons, who educated her on the condition and the implications it would have on her family. Treatment for placenta accreta is a hysterectomy – the removal of the uterus – following the child's birth, which means this would also be Brittany's last time giving birth.
"There were a lot of emotions, but mostly I was thankful to have a doctor that is an expert in treating my condition and being able to feel confident that my baby and I were going to be ok," she explained.
According to Dr. Simmons, Brittany was fortunate that she was diagnosed when she was.
"It can be catastrophic if not detected prior to delivery," explained Dr. Simmons. "The blood loss alone can be fatal if you're not prepared in the operating room. I tell residents when I train them that if you start a C-section and see that a patient has placenta accreta that you weren't prepared for, close her up, get your ducks in a row, and reschedule the surgery; that's how serious it can be."
The ideal window to deliver a baby with this type of placenta is 34-36 weeks gestation, so Brittany was scheduled for delivery in her 35th week on January 28. Until then, she returned home to West Monroe and was monitored by Dr. Simmons at the Woman's satellite clinic at St. Francis Medical Center in Monroe.
A Special Delivery
Things continued as planned until early January, when at 32 weeks pregnant Brittany experienced some bleeding and was admitted to Woman's Hospital, where she would have to remain for monitoring until delivery.
"It was hard to be away from home for that long, especially from my daughter who was too young to understand what was going on," Brittany said. "But Woman's Hospital was amazing and I was so impressed with how well the MFM team worked together. They all knew everything about my case and made sure I was as informed and prepared as I could be."
Brittany delivered a healthy baby girl that she and her husband Jason named Alaina at 8:48 a.m. on January 28. She was able to be awake for delivery, something that isn't the norm for patients with placenta accreta.
In most cases, the mom is put under general anesthesia for the entire procedure. But Dr. Simmons has advocated for her patients to receive spinal anesthesia for delivery so they can witness their child's birth, and then be switched to general anesthesia for the hysterectomy. It takes a little extra work from the medical team, but is very important to patients like Brittany who will be giving birth for the last time.
Once surgery began, it became apparent the placenta accreta was much worse than previous scans had shown. Her placenta had actually grown through the uterus and was stuck to her bladder. There was also more bleeding than expected. In fact, Brittany lost her body's entire blood volume during the course of her surgery that was replaced with donated blood products already on hand for her in the operating room.
Due to extensive preparation by the Woman's multidisciplinary team — which includes MFM, anesthesia, neonatology, blood bank and pathology — Brittany's procedure was a success and she was on the road to recovery.
Recovery and Reflection
Following short stays in intensive care, Brittany and Alaina were both discharged from Woman's Hospital the following week. Back home in West Monroe, Brittany reflected on her recent experience. "It's such a relief to be on the other side of this, knowing everything is ok and my baby is doing well."
She is also thankful that she had access to the level of care she needed at the Woman's satellite clinic in Monroe and Woman's Hospital in Baton Rouge.
"I read about so many other women who had to travel out of state just to see a doctor that specializes in their condition, so to have Dr. Simmons so close to home made this so much easier than it could have been for us," she said.
In fact, she credits Dr. Simmons's knowledge and calming presence with providing a much smoother physical and emotional recovery than she had anticipated.
"She was such a great advocate for me and my baby," Brittany explained. "The way she checked in on me every day and really showed she cared, that personal experience was so important to us and meant so much."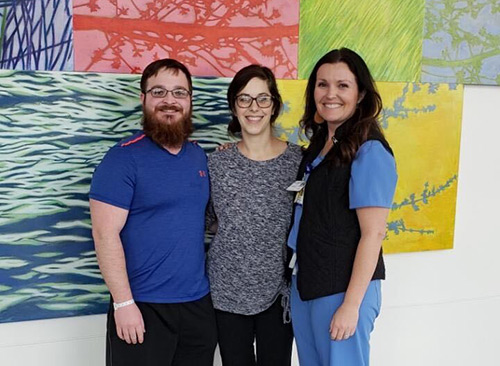 Woman's Maternal-Fetal Medicine has satellite clinics across Louisiana to help treat more high-risk pregnancy cases. Locations include Lake Charles, Thibodaux, Hammond, Covington and Monroe. Visit womans.org/mfm for more information or to learn more about about Dr. Simmons and placenta accreta.